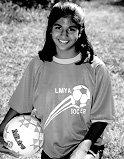 hits since August 26, 1996
Hey there, welcome to my homepage. Here's some basic stuff about me:
Age- 15
Grade- 10th
Residence- Northern California
Family- Mom, Dad, Sister Sharon, and dog Cinders
Hobbies- track, tennis, dance, soccer, acting, and art
Music- alternative/modern rock
Favorite TV Shows- Home Improvement, The Nanny, and Boy Meets World
Favorite Food- Mexican, especially soft tacos
Favorite Actor & Actress- Elijah Wood & Larisa Oleynik

Got a hobby? Play a sport? Chances are, there's a website out there for ya. Here are some that you might want to check out:

If everyone does something small, we can make a big difference. These sites can help you help others:
Everyone loves free stuff, right? Here are some places where you can get free stuff on the web:
Free Backgrounds & Graphics
Free Counter
Free E-mail
Free Samples, Gifts, etc.
Free Web Space
If you're a kid or a teen, these web sites are for you:

Cool homepages by cool people:
Don't forget to sign my new guestbook before you leave. (This one better work!)
Sign My Guestbook
View My Guestbook
View the awards my page has won.
Check out my other pages:
Some of you may be wondering why the bottom part of my page had disappeared to for awhile. Well, a bunch of my links, my guestbook, and my E-mail HTML got deleted somehow. I'll try and fix it soon. For now you can E-mail me at Karen@harichandran.com with your comments, questions, and suggestions.